Introduction to Full Stack Development | Online Info Event
Do you want to dive into the world of Coding? Are you ready for a career as a Full Stack Developer?
Our CodeMaster Full Time Online Bootcamp (starting on November 16) will teach you Javascript, HTML, CSS, React, Node.js and much more. You will test yourself with exercises and group projects in order to gain professionalism in the most effective way: by practicing and experimenting.
Join our free Info Event on Thursday, October 29, to get an introduction to Coding and to learn all about the Online Bootcamp and potentially meet some new classmates.
You have the opportunity to ask any question you might have to one of our Innovation School members in a friendly online atmosphere.
Agenda
10 min – Introduction of Talent Garden and Talent Garden Innovation School
20 min – Introduction to Full Stack Development
10 min – Q&A with the Coding expert
10 min – Introduction of the Innovation School CodeMaster Bootcamp
10 min – Q&A with the Innovation School team
Takeaways:
Get an introduction to fullstack development: What is frontend and backend development, what is HTML, CSS and Javascript and much more
Learn how to become a fullstack developer
Learn more about our 3-months full-time CodeMaster Bootcamp
Get to know the Innovation School team and have all your questions concerning our learning programs answered
e-connect with like-minded people who might become your fellow students
An exclusive discount code on the current course rate
Who is this event for?
This Online Info Event is for everybody who wants to learn more about Full Stack Development and about our CodeMaster Bootcamp starting in November 2020.
The Expert
Eni Sinanaj, Senior Software Engineer and Faculty Member of the Talent Garden Innovation School CodeMaster Bootcamp
Eni Sinanaj is a Senior Software Engineer passionate about technology, innovation and startups. He worked with enterprises on large scale projects covering both backend and front-end development. He has been working with Javascript using different technologies for more than 10 years. Across his career in the industry he has enjoyed supporting interested people in learning how to code and get to know the standards.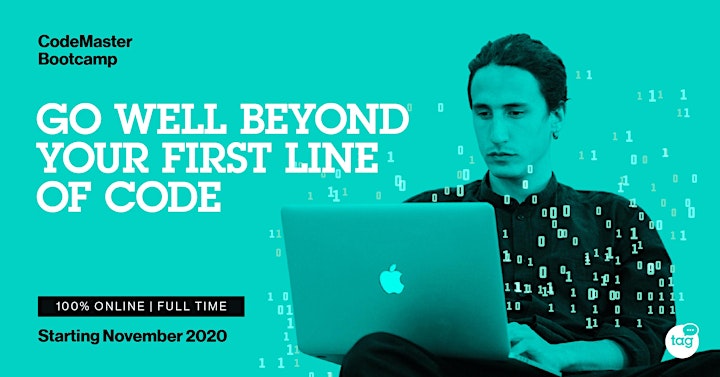 The Bootcamps combine lectures by experienced practitioners with hands-on exercises and project work.
You will learn how full stack developers use different programming languages such as HTML, CSS and JavaScript to design web-based software solutions while also focusing on the backend, the server-side programming of websites. In the Bootcamp, you will start with getting familiar with the development tools and environment before learning the basics of Javascript.
You will then deepen your Javascript knowledge and skills and move on with full stack development, from frontend to database. After these modules, you will test yourself with recreating one of the famous global products that everyone knows and uses. At the end, you will professionalise your coding skills in a final group project.
The classes will be held in English, preparing students for an international career. In addition, the course is limited to a maximum of 20 people, which allows to respond individually to the needs of students.
The Talent Garden Innovation School provides fast, in-depth and hands-on training programs designed to meet the real needs of the job market. We offer courses in the fields of digital technologies and innovation, with a focus on coding, UX design, data analysis, and digital marketing. Our formats range from 2-day Masterclasses to 10-weeks part-time and 3-month full-time programs.
Important information
This event is an online event and will take place on ZOOM.
After your registration on Eventbrite, you will receive an e-mail with the link to the actual online event. You can enter via the link provided on the day and time of the event.
The number of guests is limited and only registered people can enter the event.
Please note that the event will be recorded and its content might be used for future marketing activities.