Introduction to User Experience Design | Online Info Event
Are you ready for your career as a UX Designer? Dive into the world of UX Design and learn everything about the Online Program.
Join our FREE INFO EVENT on Tuesday, November 3, to get an introduction to UX Design, learn all about the Bootcamps and potentially meet some new classmates. You have the opportunity to ask any question you might have to one of our Innovation School members in a friendly online atmosphere.
Our UX Design Full-Time Online Bootcamp (starting on November 16) and our UX/UI Design Part-Time Online Bootcamp (starting on November 13) will teach you the latest trends and tools in UX, human perception, basic graphic design and web development terminology, user research, prototyping as well as UX management.
AGENDA OF THE EVENT
10 min – Introduction of Talent Garden and Talent Garden Innovation School
20 min – Introduction to UX Design
10 min – Q&A with the UX expert
10 min – Introduction of the Innovation School UX Design Bootcamps
10 min – Q&A with the Innovation School team
KEY-TAKEAWAYS
Get an introduction to User Experience Design: What is is about, why is it important, what does it include
Learn how to become a UX Designer
Learn more about our 3-months full-time UX Design Bootcamp and our 6-weekends part-time UX Design Bootcamp starting in October
Get to know the Innovation School team and have all your questions concerning our learning programs answered
e-connect with like-minded people who might become your fellow students
An exclusive discount code on the current course rate
THE EXPERT
Jo-Ann Bishop, Freelance Product (UX/UI) Designer
Jo-Ann is a talented UX/UI designer. With 7+ years as an Agile User Interface Designer, she is fascinated with solving complex user problems. She is passionate about digital product design and has a user-focused mentality. She has both academic and working experience in user-centred design, design thinking, visual design, development, brand communications across both brands and products. She has been fortunate in her career to have been a part of very strong and creative teams giving her varied experience from Startups design to Corporate enterprise design.
Who is this event for?
This event is for everybody who wants to learn more about UX Design and about our Bootcamps starting in November 2020.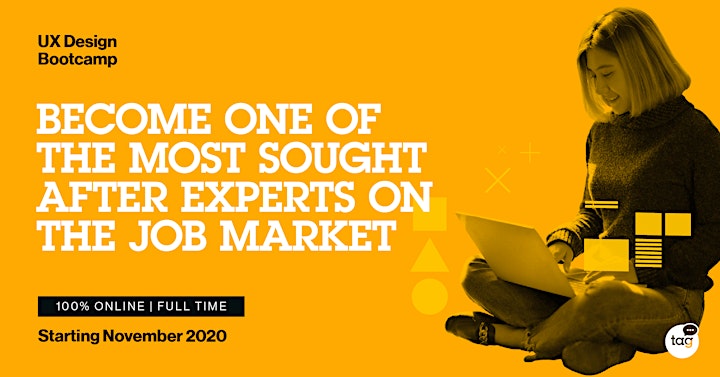 During the 12-week User Experience Design Bootcamp you will dive deep into the world of UX design and get ready for the fast-growing job market in this field. It is a flexible and interactive program that combines live teaching sessions and on-demand lessons by real-world experts and networking opportunities. In practical workshops and projects, you will design (and redesign) user experiences in groups and also on your own.
You leave this course with a state-of-the-art toolkit that enables you to create smooth, user-friendly and aesthetically pleasing user experiences for customers and understand their emotional involvement.
The UX/UI Design Online Program is an in-depth course that, over 10 weeks, trains designers who specialize in creating user experiences, those responsible for facilitating and improving the use of the increasingly common technological devices we use in our daily lives.
It is a flexible and interactive program that combines live teaching sessions and on-demand lessons by real-world experts and networking opportunities. Take advantage of this opportunity and improve your skills and career opportunities.
The Talent Garden Innovation School provides fast, in-depth and hands-on training programs designed to meet the real needs of the job market. We offer courses in the fields of digital technologies and innovation, with a focus on coding, UX design, data analysis, and digital marketing. Our formats range from 2-day Masterclasses to 10-weeks part-time and 3-month full-time programs.
Important information
This event is an online event and will take place on ZOOM.
After your registration on Eventbrite, you will receive an e-mail with the link to the actual online event. You can enter via the link provided on the day and time of the event.
The number of guests is limited and only registered people can enter the event.
Please note that the event will be recorded and its content might be used for future marketing activities.