Open House for Jobseekers | Talent Garden Rainmaking Copenhagen
1st Open House for Jobseekers at Talent Garden Copenhagen: discover our courses and develop new valuable connections!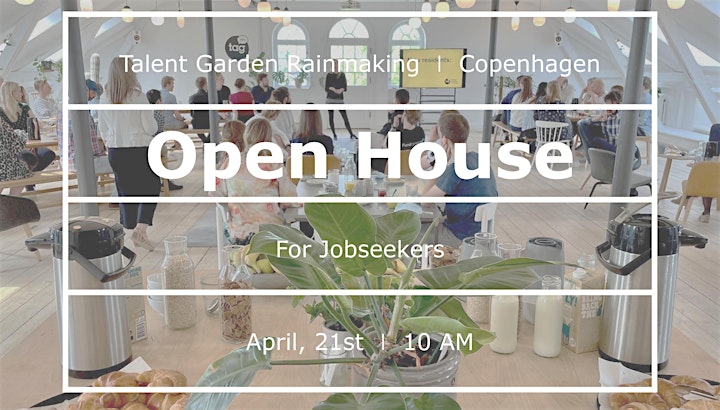 We would like to give you a warm welcome to our innovation hub in Christianshavn, a space to connect and network with other professionals who, like you, are searching for opportunities to
expand their expertise;
improve their skill set;
develop new valuable connections.
During the event you will be able to meet other professionals looking to expand their job prospects in Denmark, and learn more about the educational programs of Talent Garden Innovation School designed for professionals who are currently unemployed:
Project Management Course: 6-week course to learn how to plan, structure and lead successful projects using the newest tools and methodologies;
UX and Graphic Design Course: 6-week course to understand your users – their behaviour, pain points and motivations – and to be able to design successful, frictionless and joyful experiences for them, whether it is websites, apps or even services;
Digital Marketing Course: 6-week course to learn how to use digital channels such as search engines, email, social media, and other websites to connect with current and future customers.
IMPORTANT NOTE: All our 6-week job-oriented training programs are for free if you fulfill A-kasse or Jobcenters criteria!
Talent Garden Innovation School
Talent Garden Innovation School provides fast, in-depth, and hands-on training programs designed to meet the real needs of the job market. We offer courses in the fields of digital technologies and innovation, with a focus on project management, digital marketing and UX & graphic design. Our flexible and interactive programs combine recorded on-demand sessions, live teaching sessions, and networking opportunities.
PROGRAM
Join a facilitated meet and greet session to expand your network in Copenhagen.
Find out what skills are the most in-demand today and how to "digitalize" your professional profile.
Word from the recruiter: How to be hired for skill set – not resumé
Learn more about the startup scene in Copenhagen, and why it is a good idea to start building up a future-proof set of skills
Hear about our job oriented courses in Digital Marketing, Project Management, and UX/Graphic Design
Get your profile reviewed by our team and know how these courses could be 100% financed by your Jobcenter or A-Kasse (free of charge for you)
Learn about the benefits of being part of Denmark's growing, digital and international community of professionals.
Click to Register