Innovation Melange: Let me rewrite your ads to improve the lead quality
During this workshop, we will take a look at paid channels and learn how to write highly converting copy for ads.
During this free online workshop, we will take a look at paid channels and learn how to write highly converting copy for ads. We will explore best practices, analyze various examples and even rewrite some ads.
In this session we will cover several topics from our module on "Acquisition Management & Multi-channel Strategies" of the Growth Marketing Online Program (Part Time) starting on November 20, 2020. Furthermore, you will meet the Innovation School Team, talk to alumni from the last class and connect with your potential future fellow students.
AGENDA OF THE WORKSHOP
50 min: How to get high quality leads with paid channels
10 min: Q&A and Introduction to the Innovation School Courses
KEY-TAKEAWAYS
Understand how paid channels work
Learn how to write highly effective ad copy
Explore different channel strategies to generate more leads and sales
Understand the basics of digital advertising
Learn more about our Growth Marketing Online Program
Get to know the Innovation School team and have all your questions concerning our learning programs answered
Talk to alumni from the last class and get first-hand insights
e-Connect with like-minded people who might become your fellow students
WHO IS THIS EVENT FOR?
This workshop is for everybody who wants to learn more about Growth & Digital Marketing and everyone who is interested in our Online Courses. Beginners are welcome.
THE EXPERT
Dominik Berger, Founder & CEO of Attention Fox and Scientific Coordinator at Talent Garden Innovation School
Dominik is the founder of the digital agency Attention Fox. He supports and advises companies from different industries on the subjects of content strategy, content marketing, SEO, e-commerce, and performance marketing. Additionally, he also has acquired many years of experience in adult education. Dominik studied Information Systems at the Vienna University of Economics and Business and works with his team remotely from anywhere in the world.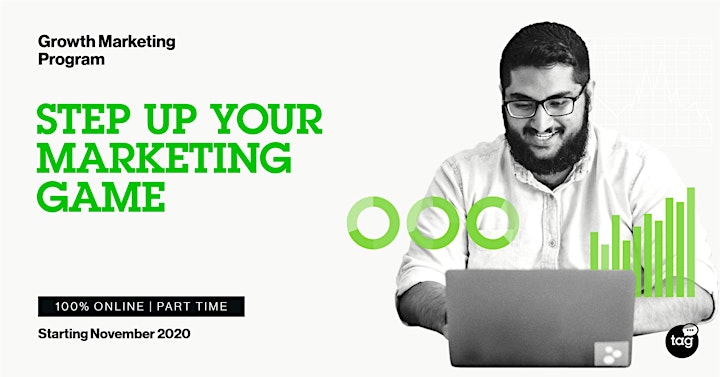 The Talent Garden Innovation School provides fast, in-depth and hands-on training programs designed to meet the real needs of the job market. We offer courses in the fields of digital technologies and innovation, with a focus on coding, UX design, data analysis, and digital marketing. Our formats range from 2-day Masterclasses to 10-weeks part-time and 3-month full-time programs.
Welcome to the Growth Marketing Online Program! It provides the most relevant content that professionals need to succeed in a world of growth hacking and digital marketing. Over six weekends we cover the entire growth marketing process, which is a mixture of digital marketing, growth strategy, communication, user experience and coding.
Learn how to grow your business by quickly experimenting with channels and products. It is a flexible and interactive program that combines recorded on-demand sessions, live teaching sessions and networking opportunities. Take advantage of this opportunity and improve your skills and career opportunities.
Important information
This event is an online event and will take place on ZOOM.
After your registration on Eventbrite, you will receive an e-mail with the link to the actual online event. You can enter via the link provided on the day and time of the event.
The number of guests is limited and only registered people can enter the event.
Please note that the event will be recorded and its content might be used for future marketing activities.