How my UX Design skills raised 25k€ in 2 weeks for COVID
Discover how you can turn UX Design skills into a side hustle that will earn you more money and great experience.
In this event, Alberto Andreetto, Lead Designer at Sketchin, you will discover how you can turn UX Design skills into a side hustle that will earn you more money and great experience thanks to his personal experience raising 25,000€ in only two weeks to support the COVID response.
See the design process in action and learn how to kickstart your career in UX, the benefits it will bring and the endless opportunities it will open for your career and life. From freelancing, side hustles, impact projects or getting hired in a company, UX Design is a future-proof career in high demand and will give you satisfaction every step of the way.
Who is your speaker?
Alberto is a designer with expertise in interaction and service design. He worked for startups and corporates in Italy, Switzerland and Germany before joining Sketchin in Switzerland in 2017. Since then, he has designed services in Italy, Switzerland, Angola, Russia, Germany and UAE for companies like Sky, Eni, Lenovo and Allianz, supporting them to create smooth and engaging user experiences.
Who is this for?
This event is for anyone that is interested in design. If you want to know how it is working for a company or working on side projects, this is the time to ask questions to an expert who is doing it right now.
Agenda:
18:00 – 18:05 Welcome
18:05 – 18:40 Presentation from our guest speaker
18:40 – 18:45 Q&A
Get UX Design Skills Today
Are you ready to get the skills that will earn you more money and better results? Apply to our online UX Design Fundamental Course. You will join workshops, create a portfolio and work on real business projects all designed to boost your career.
Talent Garden Innovation School provides fast, in-depth and hands-on training programs designed to meet the real needs of the job market. We offer courses in the fields of digital technologies and innovation, with a focus on coding, UX design, data analysis, and digital marketing.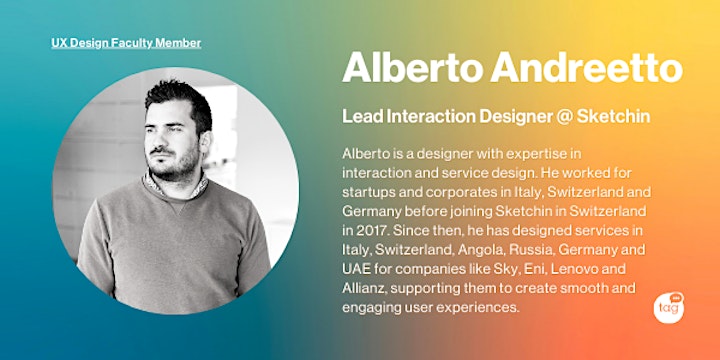 Click to Register